The Greenways of the Bywong and Wamboin locality of the Queanbeyan-Palerang Regional Council is a unique and valuable community resource. It is a network of public walking and riding trails created for the use of residents. The Greenways also act as wildlife corridors and are essential resources for the welfare of local flora and fauna.
The network of public access ways is a combination of Crown road reserves (some with paved roads, some without, some driveways and also crown roads that cut across existing private land) and also specifically identified "greenways" which are usually council-owned reserves.
Further information about the Greenways history can be found on the History and Information Page. The s.355 Greenways Management Committee has also created and submitted a  Greenways Master Plan (Version 1.1).
There is also a Greenways Facebook group, which is a good point to find out about any planed walks.
Please ensure you have read the Greenways Conditions of Use before you embark on a walk. Note: No motorised vehicles on the tracks
Maps and Track Images
A Google Map has been created of the Greenway Tracks and includes photographs of entrances and intersections on the Tracks. It will be helpful in planning your walk and identifying your location when on the track if you have mobile coverage.
Greenways Digital Google Map with pictures (updated October 2018)
There is also a three A4 page flyer you can print out with the same information on the tracks and entrances. (some pictures are still bring added)
Download the Bywong and Wamboin Greenways A4 Flyer (October 2018)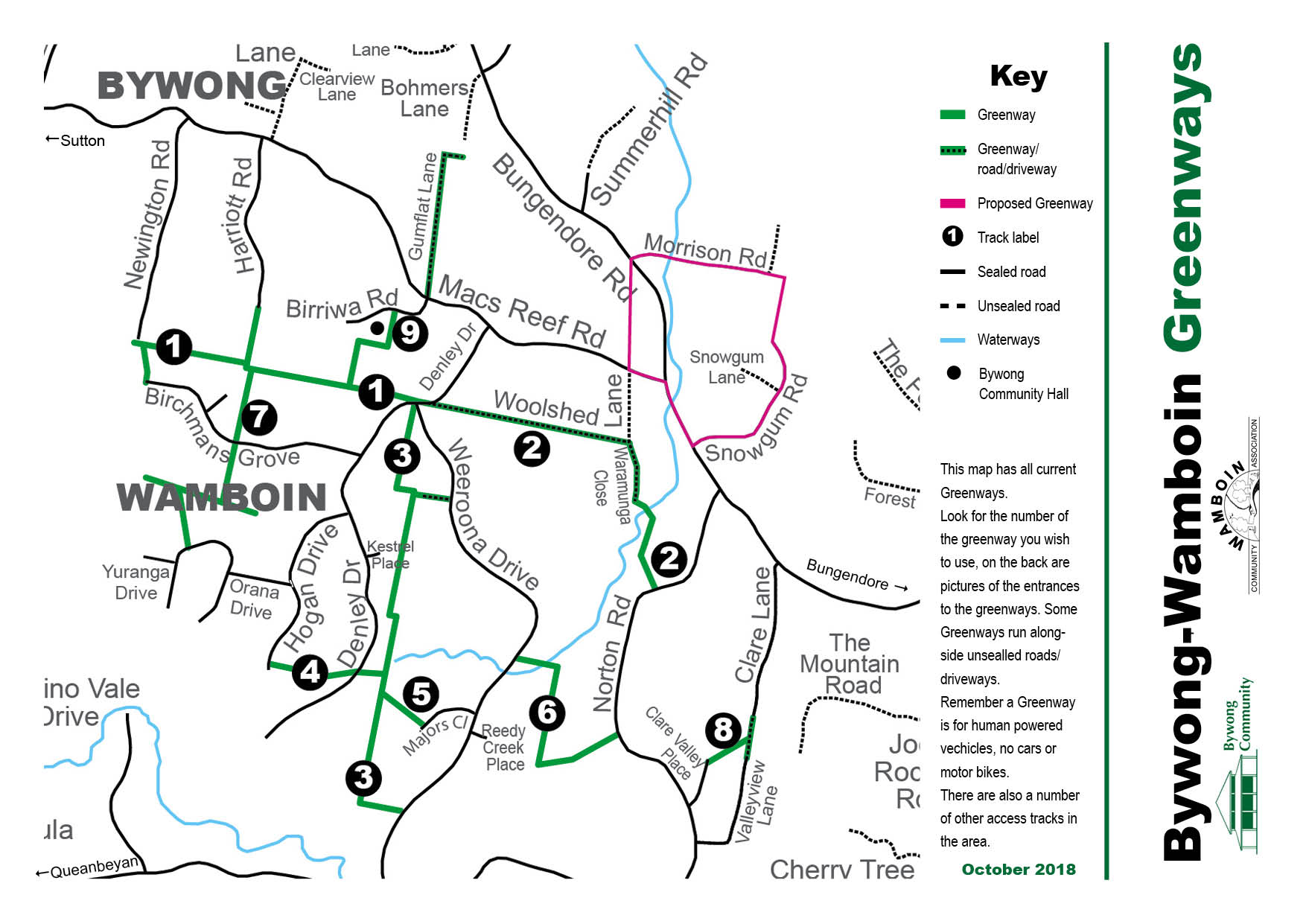 Please comment or email us to give feedback and tell us how your walk went!
If you are into Geocaching there are a number located in Bywong and Wamboin areas on Greenways, there are even some Trig point caches too. A simple Internet search with… Bywong, Wamboin and geocache… will find a number of them.
Greenways Conditions of Use
The Greenways Management Committee oversees the good management of the corridors, in cooperation with the community and user groups for the benefit of the conservation of nature and use by the community.
To help us maintain them in good condition as a community resource for the use and enjoyment of all, the following rules apply:
No motorised vehicles,**
All noise to be kept to a minimum,
All users must respect private property and the adjacent residents' privacy,
The carriage of firearms or other weapons and hunting activities are not permitted,
All rubbish to be removed,
All gates should be left as found,
No neighbouring residents are to fence, obstruct, plant on or otherwise interfere with the Greenways,
Dogs should be under control at all times,
No camping,
No lighting of fires,
Remain on the defined track,
No collection of natural or archaeological items, and
All users are encouraged to report issues or problems to the management committee.
The Committee may place restrictions on the use of any or all of the Greenways if degradation occurs or is likely to occur due to prevailing conditions of environmental concerns.
**Note: The use of unregistered motorised vehicles (especially trail bikes) may expose the riders of these vehicles to serious liability risk if an accident were to result.
Track Notes
Nature Notes
Bywong and Wamboin Greenways – Nature Notes Track 1, running South from the Bywong Hall & West towards the South end of Newington Road.
Expansion of the Greenways Network
2012 – Link from Warramunga Close/Woolshed Lane (Track 2) with Norton Road opened in august 2012.
** Please note the information below is currently being updated and contacts for the various groups and committees are being checked if still current.***
Greenways Meetings

 Future of the Greenways Meeting Nov 2016
FUTURE OF THE GREENWAYS
A meeting was held on Tuesday 20th November 2016 to discuss new areas for Greenways, with the community.
A masterplan for the Greenways is being developed by the s.355 Greenways Management Committee and will be made available sometime in early 2017.
For more information, contact: Bill Taylor, Chair, Queanbeyan-Palerang Regional Council s.355 Greenways Committee Ph. 6236 9386 Email: bill.taylor45@gmail.com
GREENWAYS COMMUNITY WALKS 2016: Happy Heart Walks
We are in the process of planning  our community HAPPY HEART WALKS for 2016, which aims to get people and their dogs & horses out walking, talking, riding, enjoying connecting with others in the community. This year, we will be working closely with the Gearys Gap/ Wamboin Landcare Group to try to share and improve our knowledge of the locality.
Summer Walk : Greenways Australia Day 2016
Tuesday 26th January 2016 at 8am: Starts from the Bywong Hall at the Les Reardon Reserve. Walk is approximately 6 kms & will take about 2 hours; we also have a shorter option that is 3.8km. Dogs on leads are welcome to join the walk with owners. You can find more details of this walk below.
Summer Walk: Greenways Australia Day
Join us for a community walk from Bywong Hall (Les Reardon Reserve) heading south on the greenways to the community reserve at Birchman's estate.
What
When
Jan 25, 2016
from 

10:00 AM

 to 

12:30 PM

Where

Bwyong Hall, Birrwa Road Bywong

Contact Name
Nora Stewart
Contact Phone

62303305

Attendees
Local Bywong & Wamboin residents, families with children able to walk 4kms,
WALK: Meet at the Bywong Hall, Les Reardon Reserve for a beautiful walk through the bush (3.8kms-6km) on greenways & crown roads to a community reserve (see photo below) , and return to the Hall for a shared Australia Day late breakfast.
A shorter option is available  (3.8kms) and involves a car shuffle to bring walkers back to the Hall.
This is an opportunity to  explore a few lovely parts of our locality, and to ask questions about the area, flora, fauna and about the greenways.
Some of this walk is on tracks and some of it is walking through bush without tracks. Walkers need to anticipate some rough walking.
MAP: Google Map of this walk is here
DATE: Tuesday 26th January 2016
TIME: 8am for 8:15 am start and should finish between 9.30am-10am, depending on walk times.
WHO?: New and long-term local residents, families, well-behaved dogs on leads.
BRING: Boots or sturdy footwear, long pants or gaiters, hats, coats in case of rain*. A plate of food to share for breakfast following the walk.
BOOK: Please let us know if you intend to come,please, to help with our planning. We need names & numbers of people, and if you intend to do the shorter option or the full walk. Email Nora@SetDancing.com.au
This community walk is a joint initiative of the Bywong & Wamboin Greenways Renewal Working (GRoW) Group and Gearys Gap/Wamboin Landcare.
* The walk will be cancelled if we have heavy rain the evening before that looks like continuing on the day of the walk; light rain and we will not cancel – please bring coats.
Please contact Nora Stewart, GRoW Coordinator on 62 303 305  if you would like to book onto this walk.
Possible Routes for Walks
2014 Public Walks Program- PROGRAM- DOWNLOAD ONE PAGE PROGRAM HERE  &  GOOGLE MAP LINK
2013 Public Walks Program -PROGRAM – DOWNLOAD ONE PAGE PROGRAM HERE  & GOOGLE MAP LINK
TWO GROUPS FOR GREENWAYS

There are two local groups involved in the Bywong & Wamboin Greenways:
1. GROW – Greenways Renewal Working Group. The role of this group is to expand the existing Greenways network. The co-ordinator for the GRoW group is Nora Stewart (02) 62303305.
2. s.355 Greenways Management Committee of Palerang Council. The role of this committee is to manage and maintain the existing Greenways network. Secretary is Maria Taylor (02) 6236 9386 or maria.taylor@yless4u.com.au
(GRoW) Greenways Renewal Working group 
GRoW  aims to increase the network of public access ways / greenways in the Bywong & Wamboin locality, connecting with other areas of Palerang, to facilitate residents, visitors and other interest groups to undertake a range of safe, quiet non-motorised activities whilst protecting and enhancing the natural environment for all to enjoy.
GRoW works in collaboration with the s.355 Greenways Management committee, Palerang Council, and is an affliate of the Bywong Community Association.
GRoW organises regular public walks (see top of this page) around Bywong & Wamboin and works with local residents to consider new local areas that may be suitable for new public access or greenways.
Nora Stewart is currently GRoW Coordinator
GRoW History

More than 30 people attended a meeting on 20th April to share information about the existing Greenways network in Bywong and Wamboin and to discuss what could be done about improving the network and potentially expanding it.There were many excellent contributions  from a wide range of participants and the overall mood  and outcome was extremely positive. The outcome of the meeting was to form two groups – the Friends of the Greenways to support Greenways maintenance and potential development,  and to have a smaller Greenways Renewal Working Group to develop a clear strategy for maintenance and possible development of the Greenways.
s.355 Greenways Management Committee

The greenways are managed by a management committee of the Queanbeyan Palerang Regional Council comprised of local residents and an elected Councillor.
The management committee will respond to all issues and complaints and refer any complaints to Council they have been unable to resolve, such as repeated use of motorised vehicles on the Greenway.
Office bearers and Committee
Councillor Pete Harrison
President- Bill Taylor
Secretary -Pauline Chambers
Gearys Gap Pony Club representative- Kerry Cox
Bywong Community, GROW and Rural Fire Service representative – Pauline Chambers
Landcare representative – Kathy Handel
 Principles for management of the Greenways
That environmental protection be observed in relation to the management and administration of the Greenways;

That the Greenways (both land and its other resources) be used and managed as a sustainable resource, and;

That multiple use and enjoyment of the greenways be encouraged.
Objectives of the s.355 Greenways Management Committee
In providing for the good management of the Greenway and in carrying out duties, the committee has the following objectives:
To encourage and otherwise ensure the conservation of natural flora and fauna, to raise public awareness of the importance of the Greenways and to encourage any community participation in :
Any actions required in the management plan

Use of the Greenways in accordance with the Management Plan

To minimise the effect of trampling and soil erosion caused by user groups,

To deter the introduction and spread of feral plants and animals,

To protect the waterways, ephemeral or permanent,

To protect all identified significant areas or sites, whether environmental or cultural,

To provide and maintain the amenity of the Greenways for the enjoyment of the community