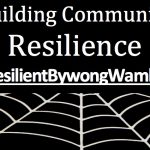 The Greenways Renewal Working (GRoW) group, has been successful in attracting grant funding from Resilience NSW of $80,000 to deliver a community resilience program for the combined populations of Bywong & Wamboin.
The Building Community Resilience Program aims to improve resilience against future disaster, and is centred on extending the reach and effectiveness of two existing voluntary community initiatives – Bywong & Wamboin GRoW group public walks program & the Community FireWise Groups.
The Program will  include:
Walk, Talk and Connect – public walks on the Greenways and other events to allow residents to meet, connect and share experiences about what might be needed for individuals and the community to become more resilient, in the face of a more turbulent and uncertain future.
Community FireWise Groups – working with current FireWise group convenors to support their efforts, and to find more local neighbourhood areas that see benefit in establishing a FireWise group.
Step Up and Step out: Community Leadership program- offering free training, coaching and support to enable more people to become walk leaders and to potentially take on other leadership roles in the community, to help build community capacity.
Engaging with the community
GRoW plans to have some community information events very soon to provide more information about the program, how you, the community might be involved and to get suggestions and feedback about what you, the community would like or prefer.
Program details
The program will be on trial from July 2021 – January 2022, and if successful, will continue until June 2023.
The program will be led by a local steering group who will engage a number of paid staff to carry out most of the administrative and other work.
The program is supported by:
the Bywong Community Association,
the Wamboin Community Association,
the Wamboin Rural Fire Brigade,
the s.355 Greenways Committee,
 and the Geary's Gap Landcare Group.
The GRoW group appreciates their support.
You can find a visual diagram of the proposed program below or you can DOWNLOAD A COPY HERE.
More details on our NEW WEBSITE
Contact us
If you would like to know more about any aspect of this program, please contact Carol Boughton via email.
| | |
| --- | --- |
| | This is a Bushfire Community Recovery & Resilience Fund project through the joint Commonwealth/State Disaster Recovery Funding Arrangements. Although funding has been provided by both the Australian and NSW Governments, the program contained herein does not necessarily represent the views of either government. |